In the Rotation #7
by Tom Körp
Ah, yes. It's time for yet another grab-bag of short-form album reviews… which means that I've been slacking off… again…
Ahem. While it is certainly no excuse for my inattentiveness, I have been wondering if it is finally time to retire the "Digital Revolution"—if the financial supporters of the physical album should simply wave the white flag and agree to whatever terms of surrender that online music services and their attendant device-mongers deign fit to offer. After all, digital downloads have been kicking physical
album sales
square in the yarbles since the mid-Naughties, and mainstream record shoppes are fading faster than a teenaged pop-star's charm. Marginal increases in vinyl sales notwithstanding, the future is looking none-too-bright for the album-as-object.
Mind you, I say/write this as a staunch supporter of so-called "Old Media", and I have no intentions of disavowing my preference for all things analog. But even then, I can see which way the wind is blowing, and I know (or simply suspect) that it is only a matter of time before mercantile holdouts like the compact disc and vinyl record finally give up the ghost. Or simply retreat to a place of obscurity, legend, limited pressings, and fetishized archaism. (Hell,
from what I have seen
, they might already be there.)
Really, this introduction is meant to serve as an apology in every sense of the word. Over the past eighteen months or so, my listening habits have slowly shifted from stacks of wax and shelves of plastic to those invisible legions of ones and zeroes contained within my iPod. Meaning that the immediacy of the album-as-object—its physical presence and attendant subconscious reminder to stop, sit, and listen—is more-or-less gone. Ergo: the woeful delay in reviewing, for your consideration, the following albums.
Mea culpa, and thanks for waiting.
Masses – Smother Nature
masses.bandcamp.com
2010 (self-released)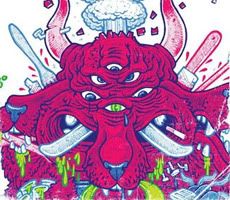 This one comes courtesy of a relatively recent forum-posted recommendation from fellow Beatbots staffer
B. Fins
, whose erudite album reviews y'all have likely read in the past. In which case you may have detected the Boatswain's underlying affinity for post-rock canoodling, heavy metal guitar riffage, and avant-garde soundscapes—an affinity which we both share. Hence the seemingly tailor-made appeal of
Smother Nature
, the latest effort from the Lincoln, Nebraska-based prog-metal/post-rock quartet Masses. Leading off with the angular six-string attack and propulsive percussion of "
Blonde Mustache
", Masses wend their way through intricately contrapuntal arrangements, mixing and matching their sharp licks, horn-throwing riffs, captivating bass lines, energetic kitwork, and ancillary sounds (backmasked tones, hauntingly distant horns, aggressive saxophone and the like) with compositional subtlety and hard-rockin' aplomb. Reminiscent at times of Russian Circles, Giraffes? Giraffes!, Foxhole, Explosions in the Sky, and the Pines (Grey Flight, not Trailer), the shifting sonic structures and loud-soft dynamism of tracks like "
Black Black
" and "
Obelisk Apocalypse
" have an arrestingly cinematic quality to them, conveying both narrative progression and emotional urgency without the aid of lyrical accompaniment or visual cues. Which is pretty well-expected of nonverbal bands in this day and age, but still—for my part, there's nothing like instrume(n)tal music by the likes of Masses for evoking mental images of Iron Age epics worthy of Robert E. Howard and Frank Frazetta. So give a listen, and hearken back to the days of high adventure… and unicorn-eating three-headed dog-demons (courtesy of artist
Adam White
).
Score: !!!!!!!
!!! (7/10) |
STREAM & DOWNLOAD
Very Okay – Small Loud EP
veryokayband.blogspot.com
2011 Quote Unquote Records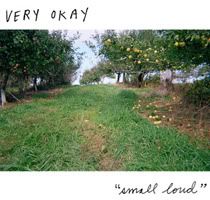 Judging by the pedigree of Brooklyn-Queens quartet Very Okay (its members have played with the likes of Cheeky, Thousandaires, Little Lungs, and Get Bent), this earnest young pop-punk band is something of an eagerly-anticipated success story. Promising youths with bright futures and all that. Much to their credit, Very Okay's
Small Loud
EP is the sort of debut album on which a far older band could easily look back with pride. Unabashedly gritty and endearingly emphatic, the songs of
Small Loud
are built upon a solid foundation of agile guitars and upbeat rhythms. Energetic opener "
Dead Horses
" wastes no time in calling out for bobbing heads and tapping toes, its lilting airs treating the macabre subject of how best to dispose of a skeleton with a casual offhandedness that belies its gruesome nature. Which is, itself, somewhat telling. You see,
Small Loud
is essentially a breakup album, and its disarmingly bubbly songs examine, from different angles, the lingering sentiments and awkward attachments that cling to the ragged edges of a failed relationship. It's an admittedly well-worn concept, but the sing-along choruses, narrative details, and emotional immediacy of songs like "
Where You Go
" and "
The Blue of Distance
" keep
Small
Loud from coming across as either overly maudlin or hopelessly clichéd—which is why it's a shame that Very Okay couldn't quite stick the landing. Ideally (that is, optimistically),
Small Loud
should end with a rousing chorus of self-discovery and a celebration of lessons learned, all roaring riffs, explosive percussion, and cathartic full-band back-ups. Unfortunately, Very Okay leave off with the half-formed closer "No One Kicks You Here, Bruno", a bottom-heavy clunker of a track that packs as much of an emotional punch as a noncommittal shrug-and-sigh during a particularly awkward "It's not you, it's me" tête-à-tête. Still, though frustratingly non-committal at the end,
Small Loud
is a damned decent first time out for a rather promising band.
Score: !!!!!!
!!!! (6/10) |
MAIL-ORDER
|
DOWNLOAD
Loch Lomond – Little Me Will Start a Storm
lochlomondmusic.com
2011 Tender Loving Empire
Looking back, I find it somewhat odd to think that I was raised on folk music—that CSN, Simon and Garfunkel, Neil Young, Cat Stevens, and Loggins and Messina were as much a part of my childhood as county fairs, family picnics, and summer vacations at the Jersey Shore. After all, so many of my teenaged years were spent in the riotous embrace of punk and rock that, by the time I followed my ears back and around to the likes of Andrew Bird, Sufjan Stevens, Iron & Wine, and Fleet Foxes, I was less amazed by my nodding approval of such folksy music than by the fact that I scarcely recognized the nostalgia which it evoked. Personally, it's this unexpected sense of The Familiar that makes Loch Lomond's
Little Me Will Start a Storm
such an appealing experience in the first place. Well, that and Richie Young's whimsical falsetto and charming chamber-folk arrangements—faint strings both plucked and bowed, low-lying bass, airy woodwinds, light percussion, and harmonious full-band chorals which play like a pleasant summer breeze through the countryside, all blinding sun, deep shadows, endless sky, and breathtaking verdancy. To wit: the hauntingly wistful "
Blue Lead Fences
", the somewhat sinister trills and hums of "Blood Bank", the lush and lovely instrumental interlude of "Water Bells", and the spine-shivering swells of "Alice Left with Stocking and Earrings". Beautiful songs all—even more so if their sentiments affect or echo your own.
Score: !!!!!!!!
!! (8/10) |
MAIL-ORDER
|
DOWNLOAD
The Pains of Being Pure at Heart – Belong
thepainsofbeingpureatheart.com
2011 Slumberland Records / Collective Sounds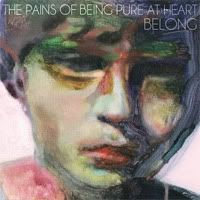 There is a moment, roughly twenty-three seconds into "
My Terrible Friend
", when I really and truly expect that Kip Berman is going to show me show me show me how to do that trick, the one that makes me scream (she said). Which is not to say that Berman and The Pains of Being Pure at Heart are shamelessly (or even intentionally) biting Robert Smith and The Cure (circa
Kiss Me, Kiss Me, Kiss Me
), only that there is, perhaps, too much synth-spangled New Wave in their lovelorn, shoegazing mix. That is, too much for any child of the Eighties to take Berman & co.'s melodramatic musings seriously at first blush. And so I wonder: Is it irony or homage? Side-eyed piss-taking or heartfelt revival? Should I season The Pains of Being Pure at Heart's sophomore album,
Belong
, with a heaping handful of scene-savvy salt, or am I meant to take the shimmering guitars and hushed vocals in songs like "
The Body
" without even a single grain of music-critical self-awareness? Moreover, does the fact that I'm even asking such questions mean that I'm
old?
Yes, certainly,
Belong
is a neatly-constructed affair with a goodly collection of incredibly listenable pop tunes (however lyrically thin), from the album's eponymous opener and the head-bobbing "Heart in Your Heartbreak" to the aforementioned Cure-alluding "My Terrible Friend" and the ennui-renouncing "The Body". But fetching though
Belong
may be, I can't help but feel that I've heard it all before, and not so long ago as to be able to think of it as new or exciting.
Score: !!!!!
!!!!! (5/10) |
MAIL-ORDER
|
DOWNLOAD
tUnE-yArDs – w h o k i l l
tune-yards.com
2011 4AD Records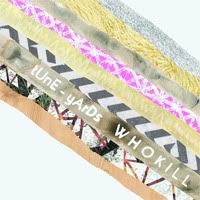 To call Merrill Garbus's experimental project tUnE-yArDs "odd" is to call water "wet" or fire "hot". Its strangeness is innate and effortless, elemental and elementary: vocals, audio samples, distorted tones, and oft-affected instrumentals sliced and diced, chopped and blended, looped and layered and finally arranged into eerily engaging compositions that are simultaneously distressing and danceable, the mind racing to identify their sonic ingredients while the body steps and sways of its own accord. Not to mention Garbus's potent vocal contributions and penchant for sing-along choruses; God
damn
, but the woman has a set of pipes, and she is all-too-ready to show 'em off, and to invite y'all to join in the fun and sing along. Whether in the rousing video-single "
Bizness
" or the sultry "
Powa
", the threatening "
Gangsta
" or the fast-rhyming "
You Yes You
", there's a sense that Garbus herself is only half the equation, and that the songs on tUnE-yArDs' sophomore album
w h o k i l l
, be they mere avant-pop ditties or scathing sociopolitical diatribes, are only made whole when performed for a singing, dancing audience. Which, given the infectiously enervating quality of Garbus's oh-so-rhythmic compositions and powerfully belted croons, should be pretty easy to come by.
Score: !!!!!!!!!
! (9/10) |
MAIL-ORDER & DOWNLOAD
The Most Serene Republic – Pre Serene: Thee Oneironauts
themostserenerepublic.com
2011 Home of the Rebels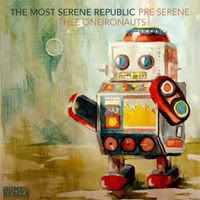 My first experience with Milton, Ontario's The Most Serene Republic was a bit of a happy accident—one which involved a collegiate road-trip to DC's 9:30 Club, a surreal car ride aided by a 20oz. soda bottle of cheap red wine and a lot of unexplained laughter, and a nearly-missed opening act. But what an opening act it was: TMSR frontman Adrian Jewett, wild-eyed and fiery-haired, shuffle-stepping side-to-side across the stage as his mewling yawps rode wave after wave of three-fold layered guitars, ethereal keys, blaring horns, rumbling bass, and convulsive percussion. I'll be damned if I could understand any of it, but I found myself enchanted by the group's convoluted chamber-pop ruckus, and made a bee-line to the merch table at the end of the set. Nearly six years later,
Underwater Cinematographer
remains one of my favourite albums (possibly Top 5, easily Top 10), which is why I jumped at the news that TMSR's mainstay trio of Jewett, Ryan Lenssen, and Nick Greaves had dug into their back catalogue to re-master and re-release their proto-TMSR recordings. Originally created under the moniker Thee Oneironauts, the unearthed
Pre Serene
collection features such rough-cut gems as "Not Even Earth's Gravitational Pull Can Bring Us Down", "
Zoltar Speaks
", "St. Germain", and "
Home of the Rebels
"—none of which can truly be said to match the brilliance of TMSR's later, more polished endeavours, but still. While it may be more a collector's curiosity than a proper "new" album,
Pre Serene: Thee Oneironauts
nevertheless showcases the intriguing origins of the modern Republic, and remains quite the worthy record in its own right.
Score: !!!!!!!
!!! (7/10) |
DOWNLOAD
Hard Girls b/w Kudrow – Boo split-7"
myspace.com/hardgirls
|
kudrow.tumblr.com
2011 Asian Man Records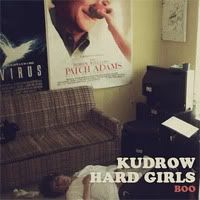 Over-educated and under-employed—that could very well be the curse-cum-mantra of that somewhat-lost generation of post-collegiate twenty-somethings left stranded in this present era of economic uncertainty, contracting industries, and limited job opportunities. But if there is a bright side to such a dishearteningly endemic combination of light wallets and deep thoughts, it's that songwriters like Morgan Herrell, Mike Huguenor, and Jeff Rosenstock have no shortage of aching frustrations to fuel their worthy musical endeavours. Better yet, they have both the ability and the inclination to rework all that painful pathos into something that could very easily inspire hope and courage in these trying times. Just so, Hard Girls and Kudrow's split-7",
Boo
, sets the earnest yawps and cigarette-strained growls of Huguenor and Herrell against the anxious cries of Rosenstock, their individual guitar heroics and punchy rhythms forming an energetic, pit-friendly backdrop to rousing songs of pith and perseverance. Whether it's Hard Girls' phantasmagoric lyrical flourishes in "Unearthly Horses" and "Birds" or Kudrow's getting-by balladeering in "Puppy" and "Rewards Zone", there's a sense that, while these guys may know what it's like to be down, they're far from out, and they're gonna make damned certain to pull y'all back up with 'em. So keep your chin up, and rock the fuck out.
Score: !!!!!!!!
!! (8/10) |
MAIL-ORDER
Geste – Howard B. EP
myspace.com/gestemusic
2011 Fin De Siècle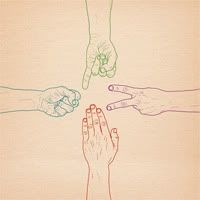 The metamorphic brainchild of veteran Parisian musician and electronic producer François-Charles Domergue, Geste is one of those musical projects that defy easy description. Intermittently a solo studio project, a laptop-toting EDM outfit, and a performing power-trio, Geste seamlessly shifts back and forth between digitally-crafted sonic haberdashery and a hard-rockin' threesome of fleet-fingered, effects-enhanced musicians. With their latest release, the
Howard B.
EP, Domergue & co. err more on the side of electric than electronic. Side A of the limited-edition 12" features a live arrangement of "
Ohm Sick
", the electronic version of which had first appeared on Geste's 2008
Jaw Breaker
EP. Rawer and looser by far, the live rendition of "Ohm Sick" retains the rhythmic frenzy and weighty bass lines of its studio-crafted predecessor, but swaps canned percussion and processed tones for an in-the-flesh drum kit and affected six-string riffs. On the flip side, "Price of Grey" is an ominous piece of electronics-aided ambient rock juxtaposed with bits and pieces of Bealean rants culled from the classic 1976 film
Network
—a vocal garnish that certainly adds to the track's inherent sense of gloom and doom (as well as accounting for the record's allusive title). While scarcely longer than nine minutes, Geste's
Howard B.
EP is all the more addictive and intriguing for its brevity, and serves as yet one more teaser for Domergue & co.'s inevitable full-length debut.
Score: !!!!!!!
!!! (7/10) |
MAIL-ORDER
|
STREAM
Geoff Wilt – Songs of Love & Haste EP
geoffwilt.org
2011 Fuzzy Panda Temporary Release Program
Those of you who have been reading Beatbots since its inception might remember
Geoff Wilt
for his critical and prose contributions to the nascent e-zine. Alternatively, those of you who were living in the Baltimore/DC area in the mid-to-late Naughties might recall Wilt's percussive role in the experimental outfit
They Can Never Take Our Crow
, the oft-shifting roster of which also featured Beatbots founder
Justin Blemly
(with whom Wilt formed the short-lived punk duo
Soft Cement
) and fellow staffers
Scott Enriquez
and
B. Fins
. (Consider all that as full disclosure.) Nowadays, Geoff Wilt has branched out on his own, writing and performing folksy, country-fried acoustic ballads under his own name. His new EP,
Songs of Love & Haste
, starts off strong with the rambling "Song for a Happy Winter", an instrumental aperitif whose four minutes of meditative acoustic guitar patiently whet the listener's appetite for the album proper. Wilt eventually brings his weighty baritone to bear in the deceptively simple "Frost", his reserved strums and dour couplets setting the stage for a lonely evening ride and a floundering relationship whose apparent coldness rivals the sub-zero temperatures outside. "Down in the Valley" warms things up a bit, dreamily switching seasons from winter to summer and adding a light touch of brushed percussion to its fond reveries of happier times and sunnier days. Next up, "February's Song" cools off again without sacrificing the amourous warmth at its core: "And in all that still somethings shining bright," avers Wilt, "like a polestar pierced in the belly of night. Because I know that I've got you, and I want you to know you've got me too." And yet, despite the romantic sentiments of "February's Song" and the bright and hopeful notes of "Jubilee", album-ender "A Ghost" leaves Wilt more-or-less as alone as he was at the album's outset. Wiser, perhaps, but haunted by memories whose power he can't quite shake—which makes for a potent and focused song cycle, if not an altogether happy ending.
Score: !!!!!!!
!!! (7/10) |
STREAM & DOWNLOAD
Bomb the Music Industry! – Vacation
bombthemusicindustry.com
2011 Quote Unquote Records / Really Records
It's no secret that Bomb the Music Industry! co-founder Jeff Rosenstock is not the happiest of persons. He's an obnoxiously smart and horribly jaded individual who doesn't quite fit the careerist mold of clean-shaven faces, pristine dress shirts, creased slacks, and well-knotted neckties, and so jumps around from one part-time subsistence gig to another while his "real job"—the relatively thankless and inarguably time-consuming task of writing and performing music, touring in support of self-produced albums, and running a donation-based record label—scarcely pays the bills. But that's cool, right? That's Punk with a capital "P", all crusty and cantankerous and DIY, under-the-radar and down-on-its-luck and devil-may-care. Thing is, BtMI!'s recorded output is less apt to romanticize its frontman's rakish lifestyle than to de(s)cry it for the shitty situation it is: no money, no health insurance, constantly mooching and scrambling just to scrape by. Rather, Rosenstock seems perfectly aware that his own prolonged passage into responsible adulthood has been a bitter pill to swallow, and that BtMI!'s raucous punk-collective compositions can only sugar-coat it so much. The despondency of Rosenstock's frustrated everyman comes through loud and clear in "
Campaign for a Better Next Weekend
", the slow-building opener to BtMI!'s seventh album,
Vacation
. Leading off with a quiet piano melody and equally reserved vocals, Rosenstock walks the listener through an early spring day spent running errands, slowly introducing airy chorals, taut percussion, and electronic effects before exploding with blazing guitar riffs, blaring horns, and sonic whatall as an ever-increasing laundry-list of casual indignities ruins an otherwise promising day. The rest of the album fares little better, with songs like "Vocal Coach" and "
Everybody That You Love
" revealing Rosenstock's growing frustration with his ne'er-do-well lifestyle and its diminishing returns. Ditto the otherwise sunny surf-rock riffs and doubled vocals of "
Hurricane Waves
" and the bright guitars and weighty reminiscences of "Sick, Later". Still, though he's certainly taken his fair share of licks, Rosenstock is not yet down for the count. The (somewhat) optimistic "
Can't Complain
" finds consolation in the simple comforts of home, and the overwhelming musical onslaught of closing track "
Felt Just Like Vacation
" hammers home the various means (self-medication, good memories and even better friends) by which Rosenstock works through his depressive episodes. And, really, that's what Bomb the Music Industry! is: talk therapy, a way for Rosenstock to shrug off some small portion of the crushing weight which his daily frustrations ceaselessly heap on his already-weary shoulders.
Vacation
might not pay the bills, but if its aggressively soul-baring punk-rock makes Rosenstock's heavy load feel even a little bit lighter, then it's still worth the effort.
Score: !!!!!!!!
!! (8/10) |
MAIL-ORDER
|
DOWNLOAD
Posted by: Tom Körp
Features (August 11th, 2011)
Tags: beatbots, features, in the rotation, masses, very okay, loch lomond, the pains of being pure at heart, tUnE-yArDs, the most serene republic, hard girls, kudrow, geste, geoff wilt, bomb the music industry!