In the Rotation #6
by Tom Körp
I'll be the first to admit that my coverage of 2010's new releases was a bit laggard, perhaps even slacktastic. Sorry 'bout that. Bit of an off year, really.
So, to make it up to you, let's give a look and a listen to some of the more surprising omissions from 2010, as well as a few unexpected releases (already!) from 2011. We've got the debut album from Michigan's Bars of Gold, made up of remnants of perennial post-hardcore favourites Bear vs. Shark. San Jose's Shinobu and Pteradon both came out of semi-retirement to drop a collection of B-sides and rarities, a couple of 7-inch records (one with The Albert Square), and a full-length. Long Island punk-rock stalwarts All Grown Up self-released a new EP. Never one to rest on his laurels, the ever-abrasive Tim Kinsella is up to his old avant-rock tricks again with yet another Joan of Arc album.
Not too shabby for only being the first week of February, yeah?
Bars of Gold – Of Gold
blogzofgold.blogspot.com
(2010 Friction Records)
I was, for much of my young twenties, a rather dedicated fan of Michigan's
Bear vs. Shark
. I reveled in their surprisingly
palatable blend
of angular melodies, driving rhythms, and coarse vocals, keeping their albums on near-constant rotation, and hanging their posters on my dorm room walls, only to miss out when they finally rolled through Baltimore in late October of 2005. Bollocks. Following Bear vs. Shark's somewhat unexpected break-up later that year, I kept a hopeful ear to the ground for any news of a possible reunion. While there have been a smattering of BvS-related projects over the past five years—Cannons, Volunteers, Champions of History, Matthew Dear's Big Hands, etc.—most resulted in little more than digital streams and the odd
live recording
, few of which bore even a passing resemblance to the explosive, rough-and-tumble spirit of
Right Now, You're in the Best of Hands
and
Terrorhawk
. No chance of a reunion, little likelihood of anything of value rising from the dust; so it goes. Fast-forward to mid-December of 2010, when I was blindsided by the news that erstwhile Bear vs. Shark frontman Marc Paffi had teamed up with the experimental rockers of
Wildcatting
(featuring original BvS drummer Brandon Moss) to form Bars of Gold. Moreover, that this new-to-me project had released its first album,
Of Gold
, in early August of that year. Well, then… a watched pot never boils, I guess? With their debut offering, Bars of Gold unearth a kinetic mix of brightly burnished guitars, grumble-growling riffs, hearty drumbeats, sturdy four-string thumps and runs, captivatingly raucous vocals, and occasional shots of strings, keys, banjo, and sundry effects. As ever, Paffi's gruff intonations, slurred croons, and emphatic full-body shouts meld oh-so-naturally with Moss's taut percussion and steady rhythms, both complimenting and contrasting with the dexterous fretwork of Ben Audette, Nick Jones, and Scotty Iulianelli. Bars of Gold may clothe the sombre ruminations of blues-bred mid-western indie-rock in the bombastic fury of post-hardcore, but they're not an out-and-out revival of Bear vs. Shark, nor are they merely Wildcatting + Paffi. There are a few obvious similarities to, and stark departures from, both sides, all of which are readily-appreciable by long-term fans (and likely entertaining regardless of one's level of familiarity with either group). Such caveats aside,
Of Gold
is a genuinely solid album, from the deceptively calm string intro of album-opener "Boss Level" straight through shuffle-stomping digital single "
The Hustle
" and rounding out with the ringing riffs and head-bobbing, shout-along chorus of "Cannibals". Honestly, the only complaint I can muster is that it took so damned long to happen.
Score: !!!!!!!
!!! (7/10) |
MAIL-ORDER
|
iTUNES DOWNLOAD
Shinobu – Exhaustive, Exhaustive
Shinobu – Tangram Sailors / Ashtray Sea (7")
The Albert Square / Shinobu – Scared of Youth, Scared of What's Next (split-7")
myspace.com/shinobu
|
myspace.com/thealbertsquare
(2010 Quote Unquote Records; 2010, 2011 Phat 'N' Phunky)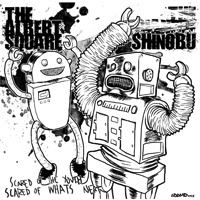 Two thousand and ten was, by many accounts, a pretty shitty year. Between post-recession economic stagnation, political malcontent, and diplomatic kerfuffles, there were more than a few reasons to wish that the past year would simply hurry up and get gone. Which is not to say that flipping a calendar page over is enough to banish the past and all its ills, but the catharsis of the New Year, however symbolic, is still catharsis. Even then, the past is not
all
bad, nor is it entirely worth forgetting. For one thing, San Jose's Shinobu—that scrappy, perpetually-on-hiatus quartet of thoughtful, punkish canoodlers—did quite a bit of good in 2010, even if they waited 'til its waning months to do it. In particular, October and November witnessed the donation-download release of Shinobu's
Exhaustive, Exhaustive
, a quasi-retrospective collection of rarities and alternate takes, as well as the
Phat 'N' Phunky
release of the
Tangram Sailors / Ashtray Sea
7-inch. And, just to keep the good feelings going in the new year, Shinobu teamed up with fellow San Joseans The Albert Square for yet
another
PNP 7-inch, the diametrically titled
Scared of Youth, Scared of What's Next
. For its part,
Exhaustive, Exhaustive
is a great gift to the long-term Shino-fans, its thirty tracks running the gamut from rough cuts and demo versions of classics like "Boourns", "Regular Love Triangle", "I am a Lightning Bolt", "
Teachers Get Tired
", and "Can Dialectics Break Bricks?" to unpolished, previously-unreleased gems like the everyman discomfort of "
Party With Your Parents
", the dour moments of clarity in "Whatsoever You Will Throw, It Will Fall", and the wry metaphysical musings of "Stairway to the Stairs". Still, even with all that
Exhaustive, Exhaustive
offers, it's the new(er) 7-inch releases that have me all a-titter. Primarily because they mean that the rumours of Shinobu's demise were (somewhat) exaggerated. After all, the narrative existential crises and conversational croons of "Hamilton Avenue Manic", "Charyb Notes", "Violence House", and "California Love" show that Shinobu still have some craftily turned phrases, hot guitar licks, and tasty grooves tucked up their sleeves. And, if equally-awesome guitar-spangling San Jo' bands like The Albert Square—whose gruff vocals and punchy riffs in "Sensationalist Programming" and "Coming to Life" will remind you why you fell in love with punk-rock in the first place—have anything to say about it, then odds are good that Shinobu will be more than willing to share what they've got in the years to come, however sporadically.
Average Score: !!!!!!
!!!! (7/10) |
MAIL-ORDER
|
DONATION-DOWNLOAD
All Grown Up – I'm Over Here EP
allgrownup.bandcamp.com
(2010 self-released)
There was an oddly self-conscious moment when I first met All Grown Up frontman Sean Corrigan some seven or eight years ago. Imagine: one moderately tall person (I'm 6'4") trying his damnedest to avoid making the incessant and oh-so-obnoxious "Wow, you're tall!" observation to another, even taller person… and then failing miserably. Seriously, though, at seven feet and change, it's impossible to
not
react audibly to Corrigan's towering presence, especially when, on stage, he makes a Les Paul look like a ukulele.
True story
. Oddly enough, Corrigan and his Long Island-based band All Grown Up became something of a show staple during my college years in Charm City, effectively serving as a not-quite-campus band that put in irregular appearances at school-sponsored events and at venues in and around Baltimore, Philadelphia, and New York. (Full disclosure: Corrigan graduated from, and played basketball for, my
alma mater
). Although steeped in the harmony-heavy, hardcore-influenced, pop-punk-ified guitar-rock that virtually defined the northern NJ/LI rock scenes at the turn of the century, All Grown Up has managed, unlike many of their contemporaries, to avoid growing stale or fading out altogether over the past ten years. Through a combination of line-up changes, personal maturation, and technical improvement, the present AGU foursome of lead vocalist/guitarist Sean Corrigan, guitarist Christopher Gey, bassist Taylor Brown, and drummer Tim Fasano have come quite a ways since AGU's early demo tapes and EPs. For starters, they've weaned themselves off the anemic affectations of late Nineties/early Naughties pop-punk and emo-tinged rock, instead adopting a far more guttural and impassioned vocal delivery—less whinging falsetto, more from-the-gut baritone. Corrigan and Gey's chugga-chugging electric guitars have been offset by brighter licks, nuanced arpeggiations, and the occasional acoustic flourish, while Brown and Fasano have developed a tighter grip on the rhythm section, keeping things clean, simple, and effortlessly propulsive. A product of all these things, AGU's latest self-recorded effort, the
I'm Over Here
EP, displays a good amount of studio spit-and-polish, including shifting instrumental foci, layered vocals, transitional voiceovers, and various sonic effects. Album openers "
Criminal Smooth
" and "SCABS" put this new bag of tricks to good use whilst tapping into the conflicted mix of
carpe diem
yearnings and late-twenty-something ennui that comprises the EP's thematic backbone. Likewise, the rambunctious riffs and full-band shouts of "
The Springsteen Sting
" and "Intro/Outro" tow that same loaded emotive line of post-adolescent promise turned to adult disillusionment, with the more laid back and acoustic-led "No, I'm Not" offering a sort of rolled-up fatalism and liquor-soaked acquiescence to round out the EP. All told,
I'm Over Here
finds All Grown Up living up to their name, and, perhaps, finding that adulthood is less a simple transition than an ongoing (and arduous) process.
Score: !!!!!!!
!!! (7/10) |
NAME-YOUR-OWN-PRICE DOWNLOAD
Joan of Arc – Oh Brother
joanfrc.com
(2011 Joyful Noise Recordings)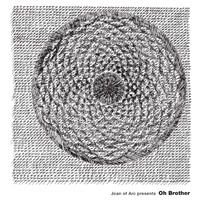 The music of Tim Kinsella is nothing if not difficult. Prolific in his own right, Kinsella has appeared in a variety of bands since first serving as the frontman of seminal Illinois avant-punk outfit Cap'n Jazz in the late Eighties. In the years following Cap'n Jazz's dissolution, Kinsella's impressive C.V. has grown to include such disparate and oft-temporary acts as Owls, Friend/Enemy, Make Believe, Everyoned, and the solo act Tim Kinsella(s), with mainstay collaborative project Joan of Arc producing, itself, over fourteen studio releases since its formation in 1995. Please note: neither the aforementioned bands nor their albums can be considered easy listening. Rather, Kinsella's entire oeuvre would appear to be predicated on subverting the audience's expectations, whether with bizarre word-salad lyrics and oddball song titles or discomforting arrangements built around grating instrumentals, outré electronic effects, and various additive sounds. Though post-rock-ish in his unconventional approach to songwriting, Kinsella is less an avant-garde composer than an auditory provocateur, with
Oh Brother
being his most outrageous and challenging effort yet. Presented in four distinct parts distributed over two LPs,
Oh Brother
is constructed from four separate Kinsella-lead instrumental ensembles—featuring the likes of Zach Hill, Nate Kinsella, Sam Zurick, Frank Rosaly, Rob Lowe, Jeff Bradbury, Robert Ryan, and Doug Rosenburg—their individual sessions cut to ribbons and then interwoven into a so-called "tessellating unity" that manages to be both ear-splittingly dissonant and evocatively sublime. Like just about every Tim Kinsella project (Cap'n Jazz included), there are moments of neigh-unlistenability offset by brilliant earworms. Haunting electro-organ drones and vuvuzela-esque hums lead to chimes, squibs, pops, and hyper-processed remnants; spastic percussion gives way to sci-fi sound-effects and squiggling, grating strings; ad nauseum overdriven guitar riffs are heavily contrasted by bright arpeggiations, rumbling bass, and pulsing kitwork … and that's just the first half of "Oh Brother #1"! Mind you, Kinsella's cut-paste compositions are not overladen with repurposed noise, nor are they so disharmonious that they become painfully directionless rambles. Hardly; there is a remarkable cohesion to the pieces, which is doubtless due to the interweaving of the aforementioned session fragments. Still, as heard in the promo sample of "
Oh Brother #2
", there are more than a few conflicting ideas at play, and even the subtlest transitions and craftiest studio stitching cannot make the patch-and-motley quilt of
Oh Brother
appear as though it were cut from whole cloth. While an intriguing experiment, the ability to find the harmony in all this dissonance has less to do with Kinsella's skill as a composer and arranger of sound than with the listener's willingness to endure the
Oh Brother
experience, noise and all.
Score: !!!!!
!!!!! (5/10) |
MAIL-ORDER
Pteradon – ¡VIVA!
pteradonband.com
(2011 Quote Unquote Records)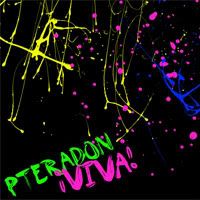 In all honesty, Pteradon's
¡VIVA!
is the album I
least expected
to hear this year—or any year, for that matter. For one thing, bassist/vocalist Morgan Herrell and drummer Max Feshbach have been playing near full-time with Shinobu's Mike Huguenor as the punk trio Hard Girls, which doubles as the backing band for Jesse Michaels' Classics of Love. For another, Pteradon's recorded material has been scarce on the whole—a few demos from when they were still known as
November Trials
, a 2006
self-titled EP
, and a pair of split 7-inch records,
one
in 2007 with San Josean sister band Shinobu, the
other
in 2009 with Santa Rosa's The New Trust—so a new album, let alone a full-length one, never appeared to be in the cards. It was simply too much to hope for, which is why I'm both flummoxed and thankful to hear, however after-the-fact, that Herrell and Feshbach had gone back into the studio with fret-burning guitarist Ian Silber. The end result of their endeavours,
¡VIVA!
, combines new tracks with a slew of rerecorded ones. Righteous rip-roarers like "Urban Pirate Style", "Broadway", "
Iron Lung
", and "Contraband" have been dressed up and turned out for another go-around, joining newcomers like "Kickball", "C Maj", "
Hey Freddie Mercury
", "V-ger", and "To the Lions" as they rock, ramble, jostle, and jump in the riotous punker-pit that invades your ears as soon as the album starts. Herrell lays it out and leads the way with his punchy four-string attack and furious vocal delivery, spitting hardcore grit and impassioned punker gristle, spinning stories of misled youth and the local scene, of living and working and loving and dying, his consolations and desolations bolstered by Feshbach's taut, rolling rhythms and energized by Silber's frenetic tap-and-buzz riffage. Just dig into the nearly eight-minute-long "
Taking Time Takes Time
", which runs from day-to-day getting-by to off-hand reminiscing before breaking down and building back up with a breathless, barely-audible prayer-turned-stream-of-consciousness-ramble rushing overtop one hell of a six-string hook, followed up by a chorus that was custom-built for the crushing camaraderie of the pit. Really, there's so much unbridled energy in
¡VIVA!
that it's hard to keep from tapping your feet, bobbing your head, or pogoing in your seat. Even album closer "Kids In…", with its laid-back vocals and meandering, ringing guitar (both throwbacks to the days of November Trials), cannot help but go out with a bang and a roar—which means that you need to hit repeat, ASAP.
Score: !!!!!!!!
!! (8/10) |
DONATION-DOWNLOAD
Posted by: Tom Körp
Features (February 4th, 2011)
Tags: beatbots, features, in the rotation, bars of gold, shinobu, the albert square, all grown up, joan of arc, pteradon